All Things Burger
Nestled in Terminal 1 of the Hong Kong International Airport is Beef & Liberty, a burger joint cultivated from the love of "all things burger." The restaurant was named after the motto of Britain's Sublime Society of Beefsteaks, a social club that said: "Let beef and liberty be my reward." Uwe Opocensky, the German Group Executive Chef of the Greater China Restaurant Company and burger guru, poured his heart and soul into refining the delicious offerings at Beef & Liberty. Featured favorites include The Notorious P.I.G. and The Impossible Thai Burger.
The Glory Days of Airport Dining
Spending time in an airport is no joke. People often have a lot of time to kill after checking into their flight. So, Beef & Liberty connected with interior design house Faux to create a space that travelers would want to grab a bite, enjoy a cocktail, or relax while waiting. They sought to remove guests from the stressful airport environment and transport them into the ultimate airport dining experience. The design team imagined ways to bring guests back to the relaxed feel of airport lounges common in the 1960's and 70's. The whirring of a Split Flap display helped create that nostalgic sense!
Split Flap in Color
For Beef & Liberty's new restaurant in the Hong Kong International Airport, Oat Foundry built a 5R x 32C Split Flap display (commonly called an Airport Departure Board). What makes this Split Flap special are the custom colored flaps that allow it to show images to guests. From burgers to hearts, beers and everything in between, our Split Flap serves as a way for Beef & Liberty to communicate and engage with consumers in a fresh and exciting way.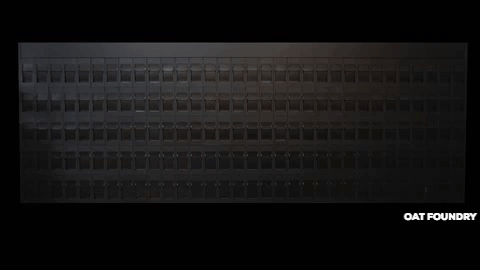 Split Flap for Hospitality Design
Oat Foundry is proud to offer Split Flap displays (old school Airport Departure Boards) with colored flaps that allow the user to create completely unique, custom signage. Like Beef & Liberty, our engineers can match the aesthetic of whatever type of design you're going for. Oat Foundry loves working with restaurants and other businesses in the hospitality industry, whether they're here in the states or overseas. Our on-site installation team will be there, no matter where you're located! If you're interested in a Split Flap for your restaurant or hospitality design, contact us.