This Week in the Workshop: Oat Foundry Face Shield
In response to the COVID-19 crisis, we are rapidly designing, manufacturing, and distributing PPE essentials. First up: Our Oat Foundry Reusable Clear Face Shield, a safe, easily cleaned solution for essential workers and staff.
Thursday 3/19: State-wide Shutdown
Pennsylvania Governor Tom Wolf announces that the physical locations of all non-life-sustaining businesses must close by 8pm.

Oat Foundry applies for a waiver to transition our production facility to PPE and other essential device production.
Sunday 3/22: Greenlight
Oat Foundry receives a waiver to maintain physical operations.
Monday 3/23: Discovery
With permission to stay open, Oat Foundry performs discovery on materials with the required visibility, protection, and cleaning properties, abiding by CDC guidelines.

Design engineers select 0.040″ polycarbonate as the optically transparent material with the best durability and sturdiness to weight ratio and chemical structure that fit the necessary Splash Protection standards. Supplied in flat sheets, we cut the polycarbonate with our CNC Router, a computer-controlled tool with precision accuracy, typically used for producing Split Flap Display parts.

Instead of elastic, designers choose rubber as the ideal material for the strap due to its superior longevity and comfort.

Ultimately it does not matter what we think, it matters what the end users think. We deliver early prototypes to several key stakeholders for vetting and critical feedback.
Wednesday 3/25: Assembly
Designers rule out injection molding for the time it would take to turn around a production tool and 3D Printing based on the throughput speed (we need quantity, quickly). Designers shape the polycarbonate shield with a support band made of similar material.

This band attaches to the rubber strap with various holes allowing the shield to adjust to different size heads. We flush rivet the rubber strap to the polycarbonate, and now have a prototype ready for more user testing.
Thursday 3/26: Testing
With our more finished prototype, we call upon a broader group of stakeholders for another round of feedback. Suggestions to our original design include; reducing the vertical length of the shield for less movement restriction and the addition of more rubber holes to increase the range of head size.
Tuesday 4/3: Shipment
Large scale production begins as we lock the final Face Shield design. The polycarbonate material is cut in large quantities by our CNC Router, and our new laser cutter by BOSSLASER, has taken over the formerly manual task of cutting holes into rubber. Other tasks such as quality control, assembly, and packaging are done by hand at the Oat Foundry shop. With the increasing demand for skilled assembly technicians, people from many different industries are stepping up and joining the Oat Foundry team.

Oat Foundry hires two new Assembly Technicians, Brendan and Dan.
Friday 4/10: Full-scale Production
Two more Assembly Technicians join our team, Jillian and Rebecca.

Oat Foundry completes its 5,000th Reusable Face Shields. These shields ship local, prioritizing essential workers.
Wednesday 4/17: Supplied
Oat Foundry begins fulfillment on an order for 10,000 Face Shields for the City of Philadelphia.
"It has been incredible to see the whole team move so quickly on this project.

Mark Kuhn - Oat Foundry CEO
After two weeks of shifting our production focus, we are now supplying the demand for medical equipment. The face shield is now available in quantities of 10 and can be in your facilities quickly.
With the creativity and manufacturing capabilities in our shop, we are able to design and produce products that reduce the risk of contracting COVID-19 for those working face-to-face with the virus.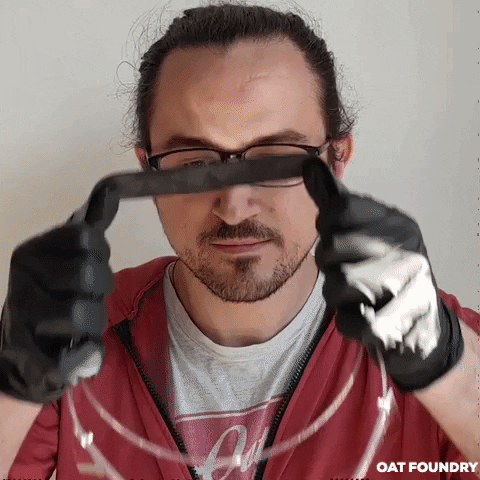 Next week in the workshop: An expanding PPE Assembly Team.
Our building efforts and Assembly Team are expanding as we work to rapidly produce PPE essentials. In next weeks edition, we will focus those who have recently joined the team and their experience before coming on board.