A Sun-kissed Valley Outside Ketchum
Nestled in a valley outside of Ketchum, Idaho sits Sun Valley, North America's original ski resort. It opened to the public in the winter of 1936 after Count Felix Schaffgotsch and Averell Harriman spent months searching for the perfect untapped area to build a family-oriented destination. Sun Valley became an overnight success, welcoming celebrities, professional skiers, and anyone who wanted to enjoy a day on the slopes.
Making Nostalgic Updates
Today, Sun Valley is still a destination to many a traveler. To keep up with the ever-changing demands of various visitor demographics, Sun Valley's Director of Hospitality set a large-scale renovation in motion. In addition to updating the main lodge and enlarging guest rooms, a new idea for a restaurant was born – Village Station. 3DS, an interactive exhibit fabricator, was contracted to conceive, design, and fabricate Village Station. With outdoor seating and four large-screen televisions, Village Station was to be Sun Valley's ultimate gathering spot.
Ode to the Union Pacific Railroad
Since Sun Valley's opening, visitors travel through the Wood River Valley by rail, taking in the scenic route on their way to the ultimate destination resort. In an effort to celebrate this journey, Village Station is filled with railroad-inspired accents, including Art-Deco decor, model trains, and a Split Flap display reminiscent of the scheduling boards of train stations past. Oat Foundry provided Sun Valley with a 6R x 24C Split Flap, used to display friendly messages about happy hours as well as custom messages requested by guests.
6R x 24C Split Flap in Action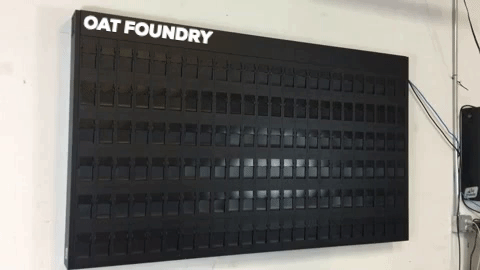 Perfectly Match the Terminal Aesthetic
At Oat Foundry, we've worked with designers to help achieve a classic transit terminal aesthetic. From airports to train stations and bus terminals, our Split Flap Displays help add authenticity and create conversation within these types of spaces. We love working on projects inspired by transit. Whether they're here in the states or overseas, our on-site installation team will be there! If you're interested in a Split Flap for your transit-inspired design, contact us.